We're Getting Mutants in the MCU - The Loop
Play Sound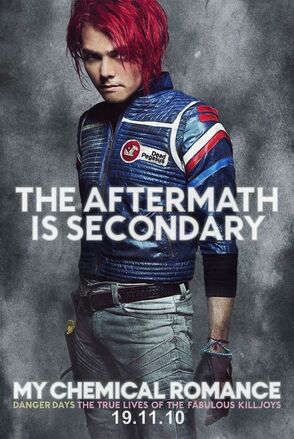 | Name: | Party Poison |
| --- | --- |
| Nicknames: | Party, Poison, Pois, Party Poop, Red Motherfucker, Angsty Lesbian, That One Asshole™, Piss Boy, Murder Wizard. |
| Faction: | Killjoys |
| Gender/Pronouns: | Non-Binary (they/them) |
| Age: | 15 - 17 |
| Features: | Dyed red hair, Dead Pegasus jacket, yellow mask and ray gun, yellow bandana on left leg, fingerless gloves, bad luck bead bracelet |
| Status: | Deceased as of 2019 |
| Birth Date: | Unspecified |
| Affiliates: | The Fabulous Four, Dr. Death Defying, Show Pony |
| Siblings: | Kobra Kid (Unconfirmed) |
| Relationship: | unknown |
Party Poison was the leader of the Fabulous Killjoys, recognizable by their bright red hair, blue jacket, and yellow ray gun. Party Poison is portrayed by the lead singer of My Chemical Romance, Gerard Way. Both Party Poison and Val Velocity's designs were heavily inspired by Gerard's early designs of Mike Milligram, who was originally planned to be the comic's main character. In the videos for "Na Na Na" and "SING", Poison wore a blue motocross jacket advertising the Dead Pegasus petroleum company; this jacket also makes an appearance in the comics. They alternate between wearing a yellow domino mask (black diamond around both eye holes, a blue dot on each cheek, and one on the forehead) and a MouseKat mascot helmet.  
In Dr. Death Defying's transmission CD release party special, Dr. Death Defying mentions Party Poison and Jet Star partying with android girls (porno droids).
Party Poison, along with the rest of the Killjoys, died in 2019 at the BL/ind Headquarters saving The Girl.[1][2][3]. However, My Chemical Romance has released an outtake version of their video SING, which implied that the Killjoys had faked their deaths. It is unknown if Party Poison and the Killjoys are truly dead or alive.

Many fans saw Party Poison as non-binary. Gerard noticed and wrote about these theorie on Twitter and referred to Party Poison with they/them pronouns. In 2018, he officially said on the Killjoy Amino in a comment under one of his posts that Party Poison is part of the LGBTQ+ community and identifies as non-binary/gender neutral.
Gallery
References
↑

"SING" video

↑

The True Lives of the Fabulous Killjoys comic, issue 4

↑

The True Lives of the Fabulous Killjoys comic, issue 2